Registration for consultations during this event can be filled out below.
---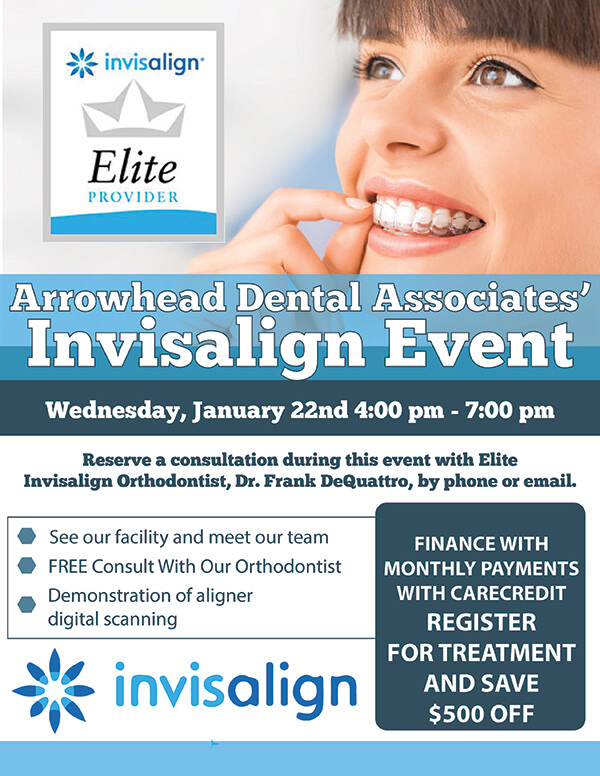 ---
Invisalign® Night
---
January 22nd | 4 PM – 7 PM
---
---
---
Invisalign® is the clear way to straighten your teeth without braces. Invisalign® consists of clear plastic aligners custom made to fit to your teeth and move them into alignment. You will receive multiple sets of aligners throughout treatment with each set working in tandem with the next. Each aligner is created to move your teeth little by little until the desired result is achieved.
Your Invisalign® treatment will be determined by your orthodontist. Each individual has unique needs, therefore your length of treatment is going to vary. A typical treatment time could be between 12 and 18 months.
Your treatment is unique and your orthodontist will determine how often you need to come in to track the progression of your treatment. Typically you will need to come in every 5 to 7 weeks.
Yes. Many Invisalign® patients have had previous orthodontic treatment with traditional braces in the past. Teeth do tend to shift over-time, especially if retainers are not worn diligently. Most of these cases can be corrected with treatment.
Like braces, Invisalign® offers a constant force being placed on your teeth to move them into alignment. According to your treatment plan you may have attachments added to your teeth to help the aligners move them into position. Attachments are tooth colored shapes that are attached to some, but not all, of your teeth to help the aligners apply appropriate force.
No! The aligners are removeable so you will have no restrictions on what you can or cannot eat while in treatment. Your aligners do need to be worn constantly and consistently, however you will take them out for meals or snacks. Be sure to brush and floss thoroughly before putting your aligners back in. It is not recommended to drink while wearing your aligners. Water is ok to drink but any coffee or tea could stain the aligners and get stuck under them which could be harmful to your teeth. You cannot chew gum with aligners in, the gum will stick to them.
We recommend that individuals who have any kind of orthodontic treatment wear their retainers throughout their lifetime to prevent any kind of shifting in the future. Your recommendations for retainer wear will vary based on your specific needs. Talk to your orthodontist about your specific treatment plan.
Each case is unique for to your dental needs. You will need to schedule a consultation with us so that we can determine the best treatment for you.
Many dental insurance plans include orthodontic benefits, and if you have orthodontic benefits your insurance will cover a portion of Invisalign® to the same extent that they would cover conventional braces.
---