Teeth Whitening in Charlestown, RI
Arrowhead Dental Associates provides teeth whitening services in Charlestown, RI. Call 401-364-6300 to learn more and schedule your appointment.
One of the most common cosmetic concerns patients have is tooth discoloration. Whether it's an overall dull, yellow appearance or stains, discolored teeth can make you feel self-conscious about your smile. Teeth whitening treatments make a dramatic difference in your appearance, making you look younger and more vibrant. 
At Arrowhead Dental Associates, we offer both in-office and take-home Philips whitening systems. During your consultation, we'll help you decide which solution is best for your needs.
---
ZOOM! Teeth Whitening
---
For the most dramatic results in the shortest amount of time, choose ZOOM! in-office teeth whitening. You'll leave our office with a noticeably brighter smile after a single appointment and you can achieve even more whitening at home by pairing in-office whitening with our at-home system.
We recommend in-office whitening treatments for patients with deep discoloration due to smoking, drinking wine and coffee, or certain medications. This treatment involves applying a whitening agent to your teeth and then using a specialized light to accelerate its whitening power and effectively reverse stains.
---
Custom-Fitted Whitening Trays
---
Our at-home whitening treatments use custom-made whitening trays that are designed to fit flush against your teeth for optimal results. The trays are filled with Philips ZOOM! DayWhite or NiteWhite whitening gel. Whitening at home is more gradual, but also more convenient, as you can fit treatment into your own schedule.
The advantage of professional at-home whitening kits over store-bought treatments is that your whitening will be personalized to your needs, so you can have the peace of mind knowing you're not damaging your teeth. You'll also get a specialized post-treatment gel to protect your enamel and reduce sensitivity.
---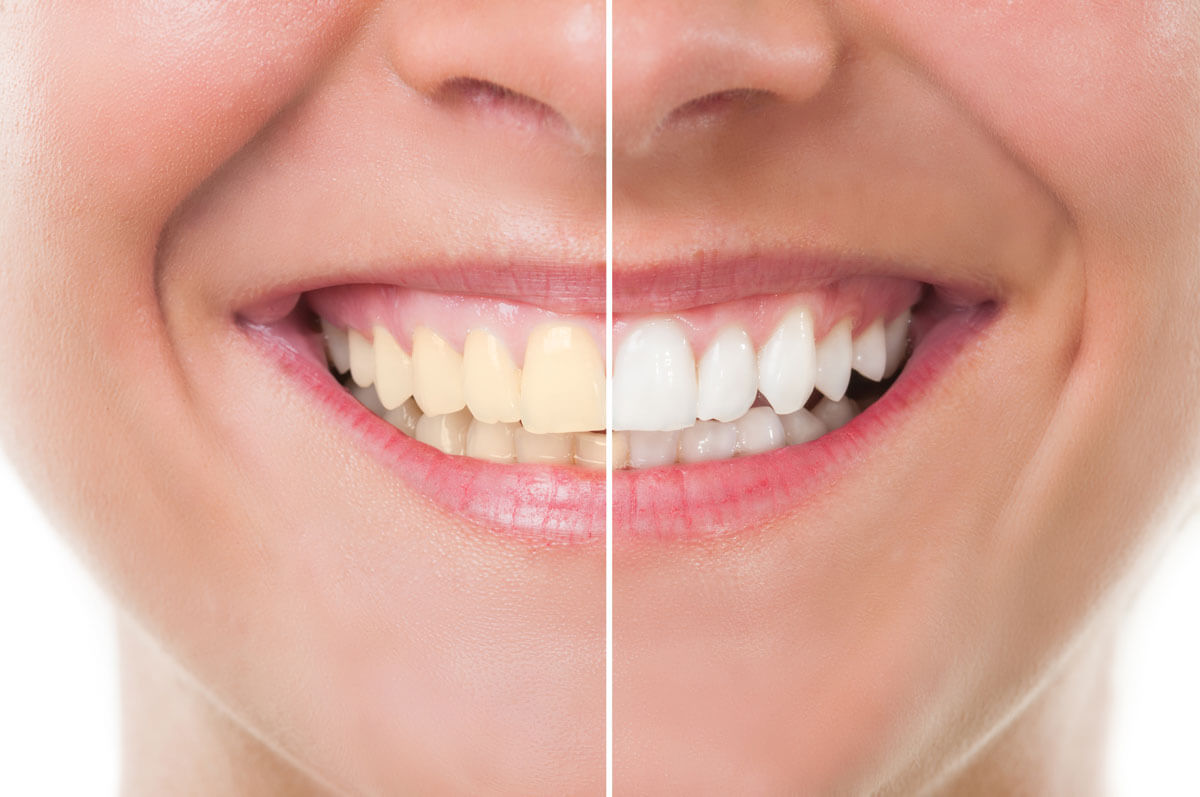 ---
Frequently Asked Questions About Teeth Whitening
---
How can I make my teeth white fast?
---
If you're looking for the most dramatic results in the shortest amount of time, choose in-office whitening treatments. They're ideal for patients who want a whiter smile for a big event, but don't have the time for at-home treatments.
---
What are the side effects of teeth whitening?
---
When you choose professional teeth whitening treatments, you don't have to worry about side effects like soft tissue damage and enamel erosion. Some patients experience sensitivity for a few days after treatment, but this is temporary.
---
Is professional teeth whitening worth it?
---
Yes, professional teeth whitening is worth it. You simply can't get the same kinds of results from over-the-counter teeth whitening treatments or home remedies like baking soda or charcoal scrubs—and, even worse, many of these treatments can actually damage your teeth.
---
How often can you whiten your teeth at home?
---
We'll provide you with instructions when you get an at-home teeth whitening kit from our office. The frequency and duration of whitening needed depends on how stained your teeth are.
---
How long does professional teeth whitening last?
---
As long as you don't return to any habits that caused your stains, you go to the dentist every six months for dental cleanings, and you practice good oral hygiene habits at home, your teeth whitening can last up to two to three years.
Call 401-364-6300 to schedule your appointment.
---